Dear Beloved Chicago Friends,
Please come to the launch party for Someday We Will Fly in Chicago on Friday, January 25th, 2019. We will read and talk and drink and eat cake at the bookstore, and then head to a nearby bar, somewhere tween and teen friendly. Please bring your little ones – we would love to see you there! 
https://www.womenandchildrenfirst.com/event/book-launch-party-someday-we-will-fly-rachel-dewoskin

When:    Friday, January 25th, 7 pm
Where:   Women & Children First
              5233 N. Clark St. Chicago, IL 60640
What: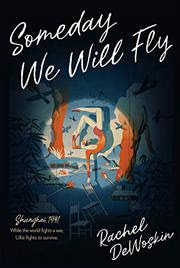 Advance Praise for Someday We Will Fly:
"Rachel DeWoskin's storytelling features an extraordinary combination of curiosity and kindness, on top of a belief that everyone can have an impact on the world they find themselves in. Someday We Will Fly is the powerful, adventurous story of a teenager who confronts the brutal history with courage, love, and imagination. I could not put it down." – Aleksandar Hemon, author of Nowhere Man and The Lazarus Project
"Particularly fascinating is the juxtaposition of the plight of Jewish refugees with that of the Chinese living in a Japanese-occupied Shanghai. A beautifully nuanced exploration of culture and people." – Kirkus, starred review
"With pathos and a fine eye for historical detail, DeWoskin relates the story of Shanghai's Jewish refugees during WWII, when Shanghai was under Japanese occupation. DeWoskin captures the crushing destruction of war and occupation, the unfathomable resilience communities can muster through cross-cultural friendships and acts of kindness, and the power of the performing arts to foster hope in times of struggle and desperation." – Publishers Weekly
Rachel DeWoskin is the author of Someday We Will Fly (Penguin, 2019); Blind (Penguin, 2014); Big Girl Small (FSG, 2011); Repeat After Me (The Overlook Press, 2009); and Foreign Babes in Beijing (WW Norton, 2005). She is on the core fiction faculty at the University of Chicago, and is an affiliated faculty member of the Centers for East Asian Studies and Jewish Studies. Read her essay on Derek Walcott in 
The New Yorker.