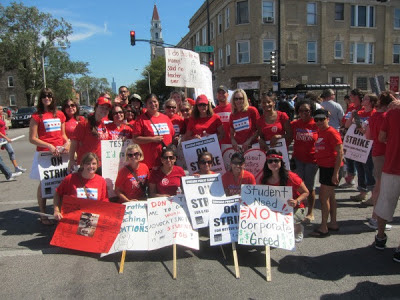 If as expected, the Chicago Teachers Union's House of Delegates votes to go ahead with the Thursday strike deadline, I will be heading over to my neighborhood school, Darwin, to walk the line.
I consider it part of my responsibility as a retired union teacher.
Over the past eight years since I retired from teaching I have walked on quite a few picket lines with striking teachers all over northern Illinois.
I encourage all retired teachers to do the same.
Michael Antonucci, the union basher who writes for The 74, thinks the CTU demand for full staffing of nurses, social workers and librarians along with contractual class size limits is some kind of trick by the union to collect more dues.
"It is no coincidence that virtually all of these new employees would be eligible for union membership," he writes.
Well, I hope so.
I particularly resonate to the issue of putting class size limits in the contract and thereby making it legally enforceable.
In my old district, we couldn't get our board to agree to class size limits in the contract, although we tried for years.
I consider it a major failing on my part.
I was a little surprised that Illinois Federation of Teachers president Dan Montgomery claimed at the rally the other day that suburban and downstate union locals already have that contractual language.
I can't say I checked every IFT and IEA contract in the state, but I looked at many of them and I couldn't find any that had class size limits in their contracts.
Maybe Montgomery can direct me to which ones he was talking about.
Even those that have a number also have a qualifier. "If practicable," is the language in the very wealthy New Treir contract, where they have no trouble keeping class sizes small. Hedging their bets.
In the south suburbs, the much poorer Robbins district has this contract language:
25. Class Size The BOARD agrees to implement the following maximum class size program for at least three (3) periods a day for the purpose of student interaction assistance:
Pre-School: will follow the grant stipulations Kdg: beyond 20 / 1 Teacher Assistant
Grades 1: beyond 27 / 1 Teacher Assistant If class size goes over the stated number, the class will be split if building space is available. If building space is not available, the teacher will receive a full-time teacher assistant.
Other contracts have side letters or a memorandum of agreement on what they will do if class size "goals" are not achieved. Rarely are these side letters as enforceable as contract language.
As I have written about for years, Illinois remains at the bottom nationally in state funding for schools. School districts like Robbins struggle to find revenue because it like most school districts depend on local property taxes for of their funding.
Perhaps passing the constitutional change to a progressive income tax will help change that situation. Even if it passes, the funding is years away.
So, I hope for a CTU win on getting class size limits in the contract.
Not because, as Montgomery said, it's what everybody else has.
But because if it can be won in Chicago, it will set a precedent.
And then maybe the Illinois legislature will be forced to fund schools at the level they deserve.